Welcome to Montfort, Ontario's Francophone Academic Hospital, offering exemplary person-centred care.
Our daily actions are guided by compassion, excellence, respect, accountability and mutual support while serving over 1.2 million people in Eastern Ontario, in both official languages. Our quest for excellence and our continuous improvement initiatives have led to an Accreditation with exemplary standing, the top level of recognition presented by Accreditation Canada, in 2014, and again in 2018. I am extremely proud of our team for the quality of the work they demonstrate on a daily basis.
Montfort is striving to become "your hospital of reference for outstanding services, designed with you and for you".
Whether you are a patient or a family member, volunteer, student, researcher, staff member or other healthcare professionals, we thank you for trusting Montfort.
Dr. Bernard Leduc
President and CEO, Hôpital Montfort
---
Members of the senior management team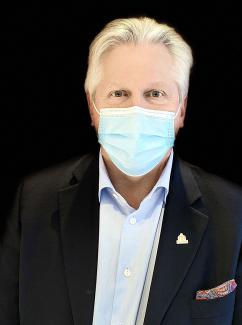 Dr. Bernard Leduc took office as president and Chief Executive Officer of Hôpital Montfort, in Ottawa, in January 2010.
Montfort is the Francophone Academic Hospital of Ontario. Under the leadership of Dr. Leduc, the hospital received Accreditation with Exemplary Standing from Accreditation Canada, in 2014, in 2018 and again in 2022. This recognition reflects Dr. Leduc's commitment to continuous improvement, patient experience and safety.
Previously, Dr. Leduc served as chief-of-staff at Montfort from 2004 to 2009. Dr. Leduc has a 27‑year experience in the practice of family medicine.
In 2004, Dr. Leduc was awarded the Irwin Bean Award, given to the individual who achieved the highest standing among practice-eligible candidates on the Certification Examination in Family Medicine of the College of Family Physicians of Canada.
He obtained his Executive Master of Business Administration (EMBA) from Queen's University in 2010.
In 2017, he received the Order of Ottawa and he was inducted in the FireStarter Hall of Fame by the Studer Group in 2018. In 2021, he received the Paulette-Gagnon Award from the Assemblée de la francophonie de l'Ontario.
Dr. Leduc sits on numerous Boards, including Health Standards Organization where he is the Chairman since August 2020.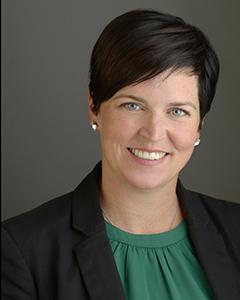 Mélanie Dubé has been appointed to the position of Vice-President, Performance, Corporate Services and Chief Financial Officer of Montfort in July 2017.
Ms Dubé began her career as a respiratory therapist, and joined the Montfort team in 1999, where she quickly climbed the ranks as a clinical manager. At the same time, Ms Dubé earned a bachelor's degree in administration as well as a Diplôme d'études supérieures spécialisées (DESS), Executive CMA Program, from Université du Québec en Outaouais, combined with an MBA from the Université du Québec à Montréal.
She became the director of Financial Services at Montfort in 2012; material and supply management were added to her responsibilities in 2014.
Over the course of her career at Montfort, she distinguished herself by her knowledge of the best practices in finance and business strategy, as well as her understanding of the challenges facing the hospital sector.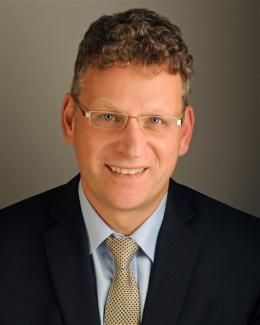 Vice-president, Quality and Patient Support Services | Chief Information Officer
Since January 2011, Philippe Marleau has been a member of Hôpital Montfort's senior management team, where he serves as vice-president of quality and patient support services. He also directs information and privacy management at Montfort.
Born in Ottawa East, Mr. Marleau has a master's degree in business administration, a bachelor's in science with a concentration in biochemistry and a bachelor's in social sciences with a concentration in economics from the University of Ottawa. His experience in continuous improvement, integrated quality and risk management, the adoption of electronic medical records, decision support and patient-partner relations is focused on serving patient experience and security at Montfort. 
Mr. Marleau lends a unique perspective to the health system in Eastern Ontario, built over 30 years in continuing chronic/complex care (Saint-Vincent Hospital), long-term care (Glebe Center) and acute urban care (Ottawa Hospital) and rural care (Winchester District Memorial Hospital). Over the course of his career, he has held the position of vice-president of clinical services, clinical support, planning and development, where he oversaw large-scale projects, including the addition of clinical services, hospital expansion and renovation ($70M), the acquisition of a long-term care residence and the design of a medical community centre.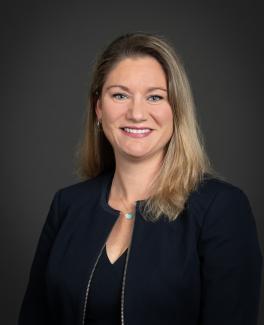 Vice-President of Clinical Programs and Chief Nursing Officer
Ms. Martine Potvin holds the position of Vice-President of Clinical Programs and Chief Nursing Officer at Montfort since August 2022. 
A nurse by training, Ms. Potvin holds a Master's degree in Nursing specializing in critical care from the Université du Québec en Outaouais (UQO).
Ms. Potvin has worked in the health field for nearly 25 years, starting as a beneficiary attendant in long-term care centers before becoming a nurse and then an activity coordinator. In 2013, she was promoted to Director and oversaw the Emergency, Intensive Care, Medicine, Surgery, Mental Health and Geriatric Rehabilitation, Rehabilitation, Perioperative Service, Routine Health and Social Work units at the Centre de Santé et de Services Sociaux de Papineau. From 2015 to 2019, she served as the Assistant Director of Nursing, Practice Support Stream at the CISSSO.
She has also gained extensive experience in teaching and research in nursing, with scientific publications to her credit.
Prior to joining Montfort, she has been involved in large-scale projects, such as hosting McGill University's comprehensive medical training in the Outaouais campus of the Gatineau hospital; adopting the scientific programming of the Centre de recherche en médecine psychosociale; organizing an international mental health conference; directing telehealth; and developing the CISSSO online training center platform.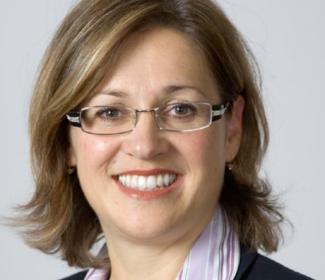 Caroline Roy-Egner is currently Vice-President, Strategic Planning, Transformation and Chief Human Resources Officer at Hôpital Montfort. She holds two degrees from Université Laval: one in industrial relations (1991) and the other in civil law (1993). In 2003, she completed a master's degree in public administration at the École nationale d'administration publique from Université du Québec.
Caroline built most of her professional portfolio in the Ontario broad public sector. Prior to her current role, she was Associate Vice-President, Human Resources at the University of Ottawa, Chief Human Resources Officer at the French Public School Board of Ontario, and Director of Human Resources at Bruyère Continuing Care.
In addition to her professional career, she is married to a high-tech sales executive who travels the world on a regular basis and together, they are raising two beautiful teenage daughters.  As such, she is busy and quite active in her community, either as a leader for Girl's Guides or on various parent's councils and sports teams.
Ms. Roy-Egner has accumulated over 20 years of human resources experience in bilingual organizations, 15 years of which has been at the senior level positions. While labour relations is her primary area of expertise, she has been the architect of numerous effective human resources programs aimed at improving employee engagement, performance and retention as well as creating healthy workplaces in both the education and the health care sector in the Ottawa area. Her recent return to health care to join the team at the Montfort, was driven by their broad workplace transformational agenda.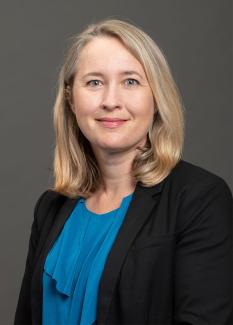 Josette is the CEO of the Institut du Savoir Montfort and Vice-President, Research and Education at Hôpital Montfort. She is also the founder of Streamline Genomics and Associate Professor in the Faculty of Medicine at Université de Montréal. She was previously Vice President, Business Development for Mitacs, where she helped facilitate partnerships between university researchers and industry.
Josette received her Ph.D. in Genetics from the University of British Columbia, followed by postdoctoral training at the University of Cambridge. She holds an MBA from HEC Montréal and has served on a diverse roster of academic, industry, and research committees.
Dr. Thierry Daboval has been appointed as Chief-of-staff of Montfort in September 2022.
Dr Daboval has been a professor of neonatology and pediatrics since 1998, first at the Université de Sherbrooke and currently at the University of Ottawa, where he has been promoted to Associate Professor in 2021. Since 2016, he has been the Medical Director of the Level 3b Neonatal Intensive Care Unit at the Children's Hospital of Eastern Ontario (CHEO) in Ottawa.
In his many roles, Dr. Daboval has been very involved in teaching and research programs, particularly in the area of counseling mothers at high risk of delivering an extremely preterm newborn. He is particularly interested in medical ethics in neonatology, communication in complex situations and how to teach it and also in the follow-up of children at risk of developmental delays. Author of more than a hundred publications, he has participated in a large number of conferences as a speaker or invited professor, including several international conferences.
Originally from St-Hyacinthe, Quebec, he completed his medical and pediatric training at the Université de Sherbrooke; he obtained his specialization in perinatal and neonatal medicine with a concentration in neonatal follow-up at the Université de Montréal. He obtained a master's degree in clinical science at the Université du Québec en Abitibi-Témiscamingue. In 2015, he graduated from the Healthcare Education Scholars Program at the University of Ottawa.
Dr. Daboval joined the team at Hôpital Montfort as a neonatologist-pediatrician and he holds privileges at CHEO and The Ottawa Hospital on an intermittent basis.
Employment contract between Hôpital Montfort and its President & CEO
As of January 1, 2012, Ontario's hospitals have been governed by the Freedom of Information and Protection of Privacy Act (FIPPA). The purpose of this legislative change was to promote a culture of transparency and accountability in public institutions. The Act is retroactive to January 1, 2007.
Out of concern for transparency, hospital members of the Council of Academic Hospitals of Ontario unanimously decided to post the employment contracts of their senior managers and CEOs on their Web sites. The Ontario Hospital Association recommends a proactive approach to posting information and documents likely to become the focus of an access to information request. A document entitled Performance Evaluation Program, explains senior managers' compensation, and is posted on the Web site along with an amended version of the President/CEO's employment contract and a senior manager contract template.
---
Performande evaluation
In 2010, Hôpital Montfort established a new management team under the supervision of Dr. Bernard Leduc, its President and Chief Executive Officer. The Board of Trustees created a new employment contract for individuals reporting to the President & CEO (see contract template).
Not only does this new contract encompass performance-based remuneration, it also includes a responsibility agreement (see Annex C of the contract template)
The current agenda forms part of the directions taken in the 2011-2015 Strategic Plan and in the Excellent Care for All Act, 2010.
In 2011, the performance objectives of the Quality Improvement Plan (QIP) related to the compensation of senior managers.
In 2012, Hôpital Montfort extended the performance evaluation of its senior managers by referencing best practices in order to optimize reporting and accountability.
In the Spring of 2012, following the 2011-2012 performance review, there took place a complete identification of organizational objectives and specific indicators as they relate to activities specific to the duties of each senior manager. The Board of Trustees approved these objectives, which have been included in the 2012-2013 Quality Improvement Plan.
In summary, in 2012-2013, we will be able to complete a full performance appraisal cycle in relation to strategic and organizational objectives in order to continually support the best improvement targets set for Hôpital Montfort's development.
Performance Evaluation Authorities
For the President and Chief Executive Officer: the Board of Trustees
For senior managers: the President and Chief Executive Officer
Major Components of the Senior Managers' Performance Evaluation Program
Executive Committee of the Board of Trustees
The Executive Committee governs all performance and compensation related activities of the President and Chief Executive Officer and Senior Managers.
Senior Managers' Performance Evaluation Process (in progress for 2012-2013)
On an annual basis, each senior manager is evaluated according to the expectations inherent in strategic and organizational objectives.
The evaluation takes place after the identified targets are met, discussions are held and feedback is received from superiors.
360-degree evaluation tools involving colleagues, employees and clients may be used as needed.
Performance Objectives and Targets
Each senior manager has from eight to ten objectives to achieve. Annual organizational objectives are determined by the President and Chief Executive Officer and his management team. Personal objectives are identified between the President and Chief Executive Officer and senior managers. These may comprise operational or functional objectives, depending on the gaps noted.
Professional Development
Based on performance, feedback and objectives set for the year, each senior manager must identify professional development opportunities that will enhance performance.
Senior Executive Compensation Program
The compensation of senior managers is approved by the Board of Trustees pursuant to the recommendations of the Executive Committee.
Compensation paid to the President and CEO and to other senior managers is determined on the basis of their performance evaluation, a market analysis and the guidelines of the Ontario Hospital Association.