Montfort marks the first anniversary of Gisèle Lalonde's passing by unveiling a street in her name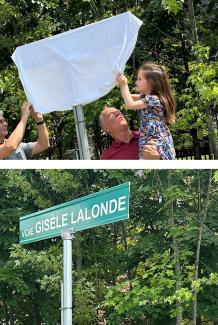 Ottawa, July 27, 2023 – Today marks the first anniversary of the death of Mrs. Gisèle Lalonde, leading figure in the SOS Montfort movement to save the hospital from closure between 1997 and 2002.
To pay tribute to Mrs. Lalonde, Montfort has named the road linking the Aviation Parkway to the hospital in her honour; this street is now known as "Voie Gisèle Lalonde".
"We wanted to highlight Mrs. Lalonde's important legacy," said Dr. Bernard Leduc, President and CEO of the hospital. "The Voie Gisèle Lalonde is used by the majority of our staff, and by many people in our community, every day. Mrs. Lalonde's name is now prominently displayed near the hospital she so passionately defended; it's a symbol of her contribution, of this historic battle, and a reminder that we must continue to defend the rights of francophone communities."
This road joins the Avenue du 22 mars, which links Montreal Road to the hospital's main entrance, designated in 1998 to commemorate the Grand Ralliement of the previous year.
About Montfort
Hôpital Montfort is Ontario's Francophone Academic Hospital, offering exemplary person-centred care. The hospital serves over 1.2 million people in Eastern Ontario, in both official languages. In 2022, it earned Accreditation with Exemplary Standing from Accreditation Canada for the third time, and is the first francophone host as the Registered Nurses' Association of Ontario's flagship Best Practice Spotlight Organization (BPSO).
With its main partners, the University of Ottawa and La Cité college, as well as other post-secondary programs, Montfort is preparing the next generation of Francophone healthcare professionals. Since 2015, it has joined the ranks of Canada's top 40 research hospitals through the activities of the Institut du Savoir Montfort, its knowledge institute. Montfort strives to become "your hospital of reference for outstanding services, designed with you and for you". In 2019, it was named one of the world's top 1000 hospitals.
Media requests