Dr. Bernard Leduc, CEO of Hôpital Montfort, announces his retirement in 2023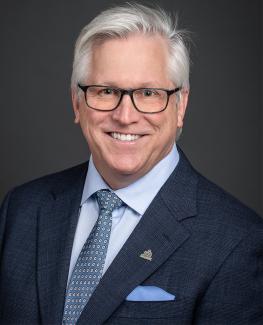 Montfort's board of trustees announces that Dr. Bernard Leduc, the hospital's President and Chief Executive Officer (CEO), will be retiring in 2023, at the end of his term.
"The board of trustees is very grateful for Bernard's leadership over the past thirteen years," said Chairman Carl Nappert. "He is an exceptional leader who has proven himself year after year. We thank him for his remarkable vision, innovation, compassion and commitment to providing high-quality care to our patients and community. His enthusiasm and leadership will be greatly missed."
Dr. Bernard Leduc joined Montfort as a family physician in the midst of the SOS Montfort cause. He served as Chief of Staff from 2004 to 2009. In 2010, he became CEO. Since then, he has directed the hospital with focus on the well-being and safety of our patients and staff members, guided by the principles of continuous improvement. 
Noteworthy achievements during his tenure include:
Developing a person-centred mission and vision 
Montfort becoming an academic hospital in 2013
The highest achievement from Accreditation Canada, not once, but twice in 2014 and 2018
Overseeing the implementation of the agreement with the Department of National Defence to dedicate Wing D to military healthcare
The creation of Institut du Savoir Montfort, responsible for teaching, continuing education, and research at Montfort
Recognition of Montfort as an iconic francophone institution across Ontario and Canada
Establishing many relationships within the community based on trust and collaboration
Constant and exceptional leadership during the COVID-19 pandemic, including the opening of many testing centres and supporting two long-term care residences
Realization and opening of the Health Hub in Orléans
A crucial role in creating and growing the Ottawa East Ontario Health Team, the only one in Ontario committed to offering bilingual health care services
In addition to his local accomplishments, Dr. Leduc has contributed to the provincial and national levels as a member of several boards, including the Health Standards Organization, where he has served as Chair since 2020. 
Thanks to the work of Dr. Leduc and the entire Montfort team, the hospital is well positioned for the future. Since 2015, Montfort has been listed as one of the top 40 research hospitals in Canada, and in 2019, it entered Newsweek magazine's list of the world's best 1,000 hospitals.
Montfort's board of trustees has retained the Boyden firm to conduct a national search for a new president and CEO. "We will be looking for a dynamic and visionary individual to build on the strong foundation established by Dr. Leduc, so that Montfort continues to meet the growing healthcare needs of our community, while fulfilling its role as a leading Francophone institution."
Dr. Bernard Leduc remains in office until June 30, 2023. Plans to honour him will be communicated as we get closer to his retirement date.
For information and media requests
communications@montfort.on.ca